First time since when? Stop the insanity!
<![CDATA[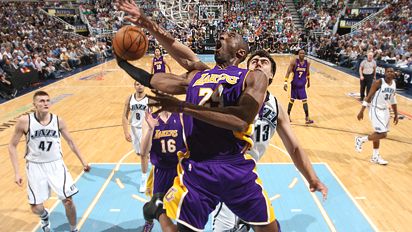 I know that blogs like Deadspin and The Big Lead (I'm not linking because they're popular enough not to need my click-through traffic) have made a cottage industry out of bashing ESPN at every knee-jerk opportunity. It's not my desire to follow up on that trend.
However, sometimes little things irk me. And this blog is my way of scratching those little itches. Case in point:
As of today (Saturday), ESPN.com's NBA page link to the recap of the Lakers series-ending win over the Utah Jazz had the following headline:
"Kobe leads Lakers to first West final since 2004."
Is there anything wrong with that factually? Of course not. The Lakers haven't been to the NBA's Western Conference Finals series since 2004, when they made it all the way to the NBA Finals before losing to Detroit in a major upset. (I'll return to the upset part in a bit.)
What annoys me about this is the use of the whole first-since-whenever expression. Armchair journalist that I am, I go by the understanding that the phrase is supposed to conjure up the idea of a long time passing between notable accomplishments. So when the 2005 White Sox finally broke through and won the World Series — just like their more popular Boston counterparts a year earlier — it was appropriate to see and hear legions of sports pundits nationwide Chicago-based reporters and columnists hailing this team as having won their first World Series since 1917.
The active ingredient is the word "1917." Said reporters and columnists would then break out the obligatory time-capsule comparisons… in 1917, the price of gas was … the President was … the latest fad amongst youngsters was … et cetera.
And folks ate it up, yours truly included.
But 2004? That was four years ago. Now obviously some significant things have changed since 2004 — the fortunes of a certain "rock-star" senator come to mind — but the world hasn't changed that much.
Yet it's somehow newsworthy that the Lakers managed to go three whole seasons!!! without making it to the Western Conference Finals.
In the immortal words of Cliff Claven, what's up with that?
Is it a nod to the naive Laker fan who expected their team to win 10 titles in a row? Because it's not like in 2004, people couldn't see the Kobe/Shaq breakup coming. That writing was on the wall during their first title together in 2000.
Whatever the source of such an expectation, it reeks of entitlement. Just like Yankee fans, Laker fans have come to expect a title run every year, and when it doesn't happen, it's somehow news.
Well I got some "news" for ya… it's called reality. Only four NBA teams will make it to their respective conference finals every year, only two will ascend to the NBA Finals, and only one will come out on top. And the basketball gods have not ordained the Lakers to be pre-approved for such honors year in and year out. Many other teams want it bad, too. Their guys are getting paid a lot of money too.
As a fan of a team with a devoted small-market base, I've come to understand this. Sometimes my boys will do well. Sometimes they won't. Pretty soon I have reason to believe they'll be chasing a title. But there's no guarantee that it won't all go sideways with another injury or an unforeseen personality clash or what have you. That's what makes sports so compelling, you never really know what's going to happen until it does.
So let me be clear. I know I'm a Laker-hater. I'm up front about that. And I'm not trying to take anything away from their accomplishment of making it back to the Western Conference Finals. They beat a very talented, very hungry Utah team, and for that, Kobe & Co. should be commended.
But lets not get too carried away. What's news is that the Lakers won. Not that they didn't win it any earlier.
]]>