If You Still Haven't Heard Hamilton Yet, We Might Not Be Friends Anymore
<![CDATA[I wasn't going to blog about it, but seeing the White House recently host a live performance by the Hamilton cast, I decided this couldn't wait any further. But I want to be clear about something from the outset. This is not a post to convince you of how great Hamilton is and why you need to see or hear it.
Don't get me wrong. I certainly want more people to know about it, but if after reading this you decide to listen to the official cast recording, I claim no responsibility for the ensuing addiction that will follow.
On the contrary, this post is simply about what a profound effect Hamilton has had on me, and why. It's about how Hamilton relates to what's going on with me in my life (plenty of big changes!) and what's going in America in general (also, plenty of big changes!). There are lessons to be learned that go way beyond the aesthetic pleasure of enjoying good music and watching a compelling stage performance. Indeed, I suspect that what makes Hamilton resonate so deeply inside me and so many others is its incredible sense of timeliness. It is, to crib a line from the Dark Knight trilogy, not the play that America deserves, but the play America needs, and needs greatly.
But alas, I'm getting ahead of myself.
Before I get too deep into my own story, just know this:
I'm not a huge fan of Broadway musicals in general, so I'm sure that there's a portion of my fandom that is amplified by the fact that being enthralled with a musical is a new experience for me. I don't deny that. My guess is that, on the Broadway side, many of its fans are delighted by the show because it's their first meaningful engagement with hip-hop. It's the diverse musicality of Hamilton's principal creative team, amplified by the powerful virtuosity of its multiethnic cast, that has elevated Hamilton to such a rarefied height of near universal acclaim. Given that bridge-building is such a huge part of my personal and professional DNA, I knew I would enjoy the show as soon as I first heard about it.
But what I didn't anticipate was how much it would impact me emotionally.
I mean, I knew going in I'd have a few points of connection. Obviously, like most people of color people in my generation, I listened to a lot of hip-hop growing up, and it's still a large part of both my musical diet and my cultural toolkit. Also, my ancestry on both sides of my family is West Indian, my mother's side specifically is from St. Croix, and she mentioned Alexander Hamilton a fair amount during my upbringing, because he is very well-regarded there.
Also, I'm known to be a prolific writer (not in frequency, but word count), and I relish a good debate.
Most crucially… I just started my first job working for the government.
---
Good enough for government work
Ever heard the expression "good enough for government work"? It was coined by sloppy contractors who view the government as a bastion of endless bureaucracy and meaningless busy work, where there's very little pride in a job well done because the job never connects with any one person in a meaningful way. The stereotypical government worker in that aphorism is lazy, entitled, and barely skilled. It's a common conservative trope, and like many stereotypes, comes with a grain of truth.
I guarantee you, though, whoever came up with that one never trained as a 911 operator. Because at my workplace, you gotta know your stuff. You gotta stay on top of what's going on, or people can get hurt. You gotta deal with people who are freaking out, spewing all manner of panicked, profanity-laced tirades, people who don't have the training to handle their crisis, because that's where you come in.
When I started my job in October, I spent around twelve weeks in a classroom-style training academy, then almost three weeks at a statewide training facility taking classes and doing drills alongside cadets who would be future corrections officers, parole and probation officers, police officers and state troopers. Since then, I've been working on the operations floor, taking my lumps as I work alongside a coach who is quick to point out any mistake I make, large or small, all in the pursuit of a combination of technical, mental and emotional proficiency that will enable me to handle any emergent scenario with grace, courtesy and efficiency.
It is, without a doubt, the hardest job training regimen I've ever undergone. Especially since most of my professional experience up to this point has been in church work and freelance writing. This job is a huge change, and it's taken a lot out of me.
Not coincidentally, the soundtrack to my travail has been the Hamilton cast recording. I've been listening to it, on the way to and from work and during breaks, pretty much since I started. I initially started listening because many of the beats and melodies are energetic and fun and great for getting amped-up for the workday. But as I got more and more sucked into the narrative, I began to understand why the show is such a phenomenon.
Hamilton is the story of our government taking shape, founded by fallible men and women filled with idealistic purpose, who fought and bled and argued and romanced and cajoled and even killed for the chance to build something new. Hamilton takes so much of the American story that has been relegated to the dusty annals of history and revives it, in living color, bringing to life all of the hardship, travail, mystery and passion that went into our country's founding.
And crucially, it serves as the counterpoint to the unspoken assumption that when it comes to the epic drama of running our country, people of color are only bit players. Much has been made of the fact that several of its central historical characters are portrayed by black and Latino actors, including Thomas Jefferson, James Madison, and Hamilton himself. While obviously not historically accurate, it speaks to the ethnic diversity of America's present and connects it to many of the same struggles that immigrants and outsiders had in founding our nation back then. It is, in the words of playwright and star Lin Manuel-Miranda, "the story of America then, told by America now."
America Then and Now
And that's a Really Big Deal for me, becaue at my job, I feel the tension playing out between America then and now. I work in a field that's an odd combination of customer service and law enforcement, and many of the 911 calls that I field come from people who are uncomfortable with others who do not look like them. I'm talking about white people, sure, but I'm also talking about shop owners who are afraid to talk to the homeless guy sleeping in their exit doorway, older ladies who are frightened by a bunch of teenagers crossing the street all at once, or passersby who see a couple guys at a bus stop and can't tell if they're fighting or just horsing around. Sometimes it is an issue of race, sometimes it's about class or geography, or just a general uneasiness of otherness.
And because there is racism hard-baked into our American history, it's appropriate to see America's founding through the lens of slavery and the massive economic engine that served as a polarizing issue between north and south. All that is part of the subtext in Hamilton, and it's addressed in ways both overt and subtle (my favorite mention is in "Cabinet Meeting #1" … Jefferson says "don't hate the south 'cause we got it made in the shade" and Hamilton responds with, "your debts are paid, 'cause you don't pay for labor!").
But the story of America's founding is littered with those who conventional wisdom would declare as inadequate or out of bounds, and those disqualifications aren't only on the basis of race.  As such, Hamilton is permeated with a vaguely inarticulable sense of otherness, of being an outsider, an orphan trying to find his way, an immigrant trying to fit in, a woman in a male-dominated political sphere, or someone learning how to survive a politicized affair. One of the central accomplishments of Hamilton is that, by examining such a tragically heroic figure and mining both his victories and setbacks, we see him no longer as a generically virtuous Founding Father, but as a person. Not only that, but we see the interplay between Hamilton and his contemporaries — John Laurens, Hercules Mulligan, the Marquis de Lafayette, and Angelica and Eliza Schuyler, just to name a few — as evidence of a communal effort. Government is made for, and made up of, imperfect people. Thus, a government that is both by and for the people must be strong enough to withstand generations and flexible enough to accommodate all of the vagaries of the human experience.
How all this affects me
So what I also see in Lin-Manuel Miranda's depiction of Hamilton is the struggle that every professional of color goes through in order to be successful — the pressure to perform, and the need to assimilate into the new space balanced by the need to represent your culture of origin. So in that way, Hamilton is pre-scamdal Tiger Woods, or Venus and Serena Williams, or Gabby Douglas, or Jeremy Lin, or whoever was the last black player to break into NHL stardom (I'm too lazy to Google at this point)… or, not that I'm on that level, but me.
See, having grown up in Portland, I've spent the vast majority of my life as a young black man in mostly white spaces, and I've become accustomed to justifying my existence and the expression of my cultural values. I started a Christian rap group in 2000, and spent the next fifteen years helping people in churches (mostly white people in white churches) understand how hip-hop music can be a viable form of worship expression, and if you've seen the way that so many evangelicals have flocked toward Donald Trump, you can understand how our efforts were not always met with support or understanding.
So there's something particularly satisfying for me about seeing rap music displayed with such panache and flair. Rap music is the preeminent indigenous American music of the late 20th century, but more importantly, it is my music. It is the music that I spent middle school and high school dances moving to, the music I spent my twenties and early thirties trying to craft and integrate into my theology and worldview, and it is the music that, despite having conquered most barriers to mainstream acceptance, still finds itself being disparaged and marginalized by gatekeepers of America's traditions (and yes, I'm talking mostly about older white people).
So one of the affirmations that I receive when I listen to Hamilton is a simple but profound one — America belongs to you, too. Seeing (well mostly hearing, but also seeing in my mind) the story of America's founding being fabulously brought to life by a parade of black and brown skinned entertainers reminds me that, even though it comes in fits and starts, and even though sometimes it looks like the odds are stacked against this, change can still happen. People who have endured centuries of oppression, disenfranchisement and marginalization can still beat the odds, not just survive but thrive, and in moments of rapturous achievement, blow us all away.
But let's take race and ethnicity off the table for a moment.
Even if, like me, you've never been a fan of Broadway musicals (Rent? Chicago? Les Mis? I pay it, I lived there, and I saw the movie, but that's it) and — not like me! — you don't think much of Lin-Manuel and company's hip-hop stylings, if you want to get to know me as a friend, you still have to listen to Hamilton at least once, because there so, so many lessons in the story that people need to understand.
A million things we haven't learned
Contained in the storyline of this epic saga are a lot of important life lessons. And sure, these are my interpretations, someone else might see or hear the same show and interpet things wildly differently, but that's cool. People are allowed to be wrong.
Consider lesson #1:
Effective leadership requires restraint and humility.
As much as I love this show, my favorite character is neither Hamilton nor Burr, two of the show's leading men, but the taciturn leader that quite literally presides over the whole affair, General-turned-President George Washington. Played by Christopher Jackson, Washington exudes a sense of quiet calm and command that serves to moderate and restrain the brash young Hamilton.
Washington's introduction is unmistakably badass in the epic war anthem "Right Hand Man," ("here comes the general!!!") where he first encounters Hamilton as a young man and entreats his help as a scribe and political apprentice. But there are two more key moments in the show where Washington shows the strength of his humility.
First, in "Meet Me Inside," Washington upbraids young Hamilton for allowing his friend John Laurens to duel with the traitorous Charles Lee. The first few times I listened to the song, I got chills from listening to the two men lock horns and argue, which culminated in Hamilton's frustrated outburst "call me son one more time!!"
You can just feel the tension in the air.
Because the show is about Hamilton, we the audience of listeners are predisposed to see the argument from his perspective.  We get that Ham is anxious to be able to lead his own battalion, and we know that he is sensitive to being condescended to, especially since he grew up an orphan.  But when you consider Washington's side, it makes his responses all the more impressive. First, even before he calls in Hamilton to chew him out, he apologizes to Charles Lee, the man who was spreading seditious rumors about him. And then later his rebuke of Ham is not just out of anger, but because he's keeping the bigger picture in mind. Not only is he trying to preserve the unity of his already demoralized forces, but more importantly, he's trying to preserve Hamilton and keep him from being killed on the battlefield. 
Can you imagine if your top lieutenant, the person you personally recruited and chose to be your protégé, not only defied your orders but almost came to blows with you about it? A lesser man would've threatened to fire him. Listen you little pissant, you better get your $#!+ together real quick, because I can replace you faster than you can load a bayonet. 
Instead, Washington stopped, paused to think, and chose to be the bigger man. "Go home," he told him.
In Act II's "One Last Time," Washington makes an even bigger impression on Hamilton by choosing not to run for president, despite being popular enough to earn another term. As part of his explanation to Ham, the lyric in the chorus says, "we'll teach them how to say goodbye," setting the precedent for a two-term limit on the presidency. I'm not sure if it was more about humility or more about world-weary fatigue, but in this case, Washington made a conscious choice to relinquish his power for the good of the republic. If the aphorism is true that absolute power corrupts absolutely, then Washington showed an almost inhuman resistance to corruption, and America became a better nation for it.
Here's lesson #2:
Effective governance requires compromise.
Part of the reason why this show feels so timely is because it shows several clear examples of governance as a function of compromise and negotiation, two concepts that seem anathema to our recent spate of Republican obstructionists in Congress.
You see it on display most clearly when Washington again takes Hamilton aside for a stern word following his rousing victory in the rap cipher depicted in "Cabinet Battle #1." After pretty much ripping Jefferson a new one, Hamilton was probably feeling pretty good about himself, but Washington wisely warns him that alienating his coworkers won't help him achieve his goals. "You're gonna need Congressional approval, and you don't have the votes," crow Madison and Jefferson, which leads to this lyrical exchange between Hamilton and Washington:
"You need votes."
"No, we need bold strokes! We need this plan–"
"No, you need to convince more folks!"
Classic Washington. It was his pragmatic counsel to Hamilton that made it possible for him to negotiate a temporary truce by trading the location of the nation's capitol for enough Congressional votes, a process that set the stage for Aaron Burr's frustrated lament in "The Room Where It Happens," which incidentally, is one of the best tunes in the show.
It bears repeating that effective governance requires compromise, because there are those who insist (on both the right and the left) that any form of compromise is tantamount to moral treason. These strident voices may be great for fundraising or for stump speeches, but when it comes to actually figuring out effective solutions for a pluralistic society composed of thousands, if not millions of competing interest groups, it falls woefully short.
I've often wondered why this is the case, but then I recently saw an article whose title encompasses the issue pretty squarely:
When you're accustomed to privilege, even equality can feel like oppression. This is one of the main reasons why I am passionate about my job, hard as it is for me to learn. Because government should be for all of us, and frankly, there are too many people in positions of power who resent the idea that government money is ever spent on addressing the needs of people of color. This subconscious racism is part of the reason why so many conservatives are against government in general, even though for many poor and working-class whites, their racism orients them against their own economic interest.
(It's not the only reason, of course… many conservatives rightly point out plenty examples of government spending run amok. But racism is still part of it.)
Anyway…
I could go on and on, but I've already hit the 3,000 word mark so I gotta wrap this up. Here are three more:
Good friendships prioritize cooperation over competition.
Contrast Ham's relationships with Laurens, Lafayette and Herc Mulligan with that of Aaron Burr, with whom he had much more in common.
A satisfied life will never consist only of work achievements.
The affair that undid Ham's presidential aspirations took place because he decided, once again, to prioritize his work life over his family life.
Positional authority is not the only way to exercise leadership.
Consider Angelica and Eliza Schuyler, the former of whom was a confidant and adviser to Hamilton, and the latter of whom used her considerable wealth and influence to build orphanages and honor the memories of the fallen, including her husband. They weren't politicians, but they were leaders.
---
These are the kinds of lessons that all of us as Americans can take to heart and use to make our country better.
So what are you waiting for?!  Go check out Hamilton, and if you're already a Ham fan like me, then get ready to cop that mixtape when it comes out.
It probably won't help you do this…
But it probably will help you do this: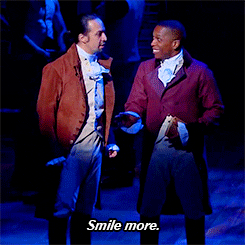 If you need to write down complaints, feel free.
But you might just end up doing this: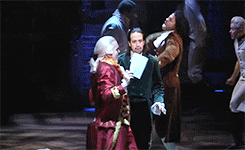 Then eventually, you'll be doing this: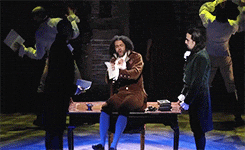 Or this: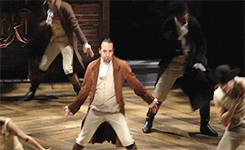 Or this:
Or this:
And by the end, you'll definitely be doing this: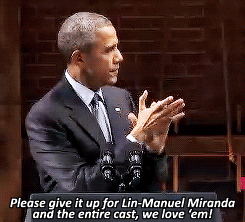 ]]>